School of International Language and Communications, College of International Language and Communications
Go Around the World With Strong English Skills and Proficiency In Other Foreign Languages!
Educational Goals
Utilizing a unique method through which students learn how to study effectively at a university level.
From first year, it is required that all students enroll in the Academic Skills Class that promotes active learning, provides students with the necessary skills to create effective reports and presentations, and helps them improve their studying methods to maximize learning benefits. Academic Skills Classes are student-centered, full of dialogue, and allow students to use their individuality and their new skills to construct a strong foundation for their academic career.
Training Students to Become Professionals with Practical English Communication Skills and the Ability to Build International Careers
Enriched English Education
English education is the foundation of the School of International Language and Communications, and the revised curriculum has been designed to offer maximum support to students who are interested in improving their English skills. Students have 37 English related classes – combining to a total of 118 credits – that they can choose from throughout their four years in the department, and a total of 43 classes – 142 credits – to choose from if they enroll in the International Media and English Communication Class in first year, as it opens up options for additional classes. From intensive academic research classes to those focused on communication skills training, the variety is excellent and the possibilities for learning are endless.
Personal Maturation through Career Design
One of the strengths of the School of International Language and Communications is that it excels in preparing students for their future careers. All students are required to enroll in a Career Design Class when they first enter the department, and design a personal course towards their career goals that they spend their next four years finishing.
Aspects of independence, cooperation, self-expression, creativity, and motivation in challenging oneself are covered in the classes, and become crucial to students as they work towards their future careers.
Improving Employability by Attaining Business Skills
In addition to learning how to design their own career and future, all students also have the opportunity to be trained in business in any of the 11 classes provided in the International Career Category. International Career Classes offer training that improves employability in management, trade, accounting, media and information literacy, hospitality, tourism, and much more. By providing education through various perspectives and guiding students in learning what they are interested in, the school seeks to provide students with an ideal learning environment and assist them in being successful in their own paths.
A Curriculum That Provides Freedom in Learning and Endless Possibilities
The school respects the individuality of each student more than anything else, and allows students to freely decide their own fields of study and design their studies. After entering the department, students select one course to study in, and choose classes from a pool of 41 general classes that prepare them for any of the four fields of education provided. From that point onward, students are free to decide which classes they wish to enroll in, and design a path that allows them the reach their own educational goals. Starting from third year, students decide their major and minor from seven intensive research areas, and continue to study in courses that they select to suit their own needs and interests. The freedom and flexibility provided allows students to gain valuable personal management skills, and also leads to endless possibilities for the future.

-
A Look at the Curriculum
Outline of Curriculum of the School of International Language and Communications, College of International Language and Communications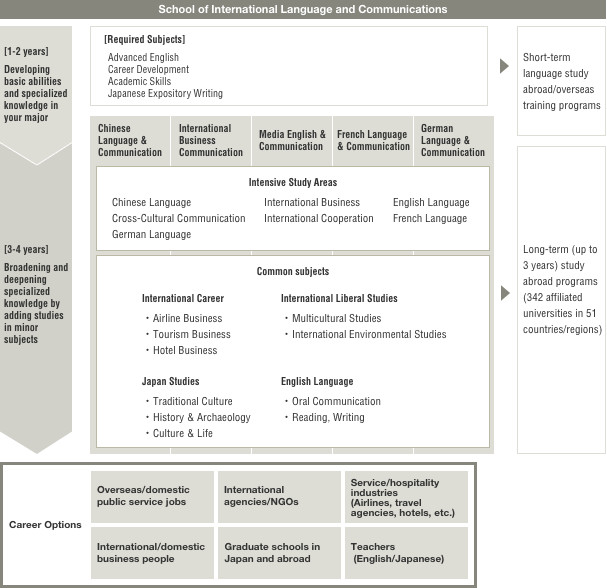 -
A Look into the Courses
Chinese Communication Course
This course allows students to develop practical Chinese listening, speaking, reading, and writing skills.

Chinese classes during the two semesters of first year are conducted by native Chinese speaking teachers, and provide an ideal environment for students to begin practicing daily conversations and work towards learning more complex forms of communication.

Alongside the option of studying abroad in an English speaking country, students can also choose to study for one year on exchange in a Chinese speaking country, or spend two years at an affiliated Chinese university to earn a degree from both Kansai Gaidai University and also their host Chinese university.
International Business Communication Course
Educational goals of the International Business Communication Course:

To train students to become professionals who can succeed in international business
To contribute to business and trade in Japan and throughout the world

This course allows students to develop a strong grasp of English, and also attain communication skills, management skills, and other field-specific skills that are necessary for working in business. Students are also provided with the opportunity to challenge themselves by studying at an affiliated business school abroad.
International Media and English Communication Course
By combining elements of English with media and communications, this course aims to help students become professionals who are capable of understanding and adapting the rapidly changing world.

The first priority is to improve the practical English skills of students, and students are required to take at least a total of 12 classes in the English Related Category during their first and second year.

Various media such as newsprint, magazines, television, radio, the Internet, as well as others are utilized in combination with elements writing, speaking, and communicating in English in order to allow students to acquire a firm grasp of the English language and become familiar with English in different media formats.

Students enrolled in this course are encouraged to challenge themselves and participate in a study abroad program in English speaking countries.
French Communication Course
The French Communication Course does not simply concentrate on learning French itself, but it also guides students in discovering what they can do in French, what they can learn in French, and how their world changes when they come to master the language.

By training students to effectively collect and process information in French, to understand French speaking societies and culture, and to study various aspects of modern society, this course encourages students to look outside their own country and explore the world.

Students in the French Communication Course are eligible to challenge themselves to participate in study abroad programs in English or French speaking countries.
German Communication Course
First year language classes in the German Communication Course are taught through a team-teaching approach where native German teachers pair up with Japanese teachers to provide students with a thorough understanding of intonation, rhythm, pronunciation, as well as other aspects of the German language.

Together with language studies, students will learn how to use the language, and also how to gather and process information in German.

Students are encouraged to explore German and also European culture to expand their knowledge base and become better accustomed to foreign cultures and countries.

Students in the German Communication Course are eligible to challenge themselves to participate in a study abroad program in English or German speaking countries
-
Traits of the Curriculum
Opening Possibilities through Global Studies
For individuals to become capable of succeeding internationally, it is necessary that they learn to use new languages and also acquire a broad range of knowledge about different cultures and societies so that they can interact and cooperate with others effectively.
Thinking about global cooperation

International General Study Classes + Intensive International Cooperation Area

Understanding foreign cultures

Intensive Foreign Culture and Communication Area

Communicating Japanese cultures and values

Japan and Japanese Language Study Classes

Learning the fundamentals of business

International Career Classes + Intensive International Business Area
Classes for Various Majors and Minors
The School of International Language and Communications combines different courses with intensive areas that allow for further research. Students can choose from a total of seven intensive research areas to match fields and careers that they are interested in, and then decide on their major and minor. Through this system, students are able to develop and attain specialized skills and knowledge about their field of interest, and also learn about a broad range of other fields and general knowledge.
Arranging Classes Based on Student Performance
Classes focusing on language training and language education are arranged based on the results of a mandatory standard exam. Students are then arranged into classes with other students at similar levels, so that class effectiveness can be maximized.
Class arrangements change every semester.
This model of class arrangement is applicable to the classes listed below.
Specialized Field Required Subjects
Specialized Field Electives
Advanced English A, B
Oral Communication I-III
Reading & Writing I-III
Study Skills