Employment Status Data
AY2016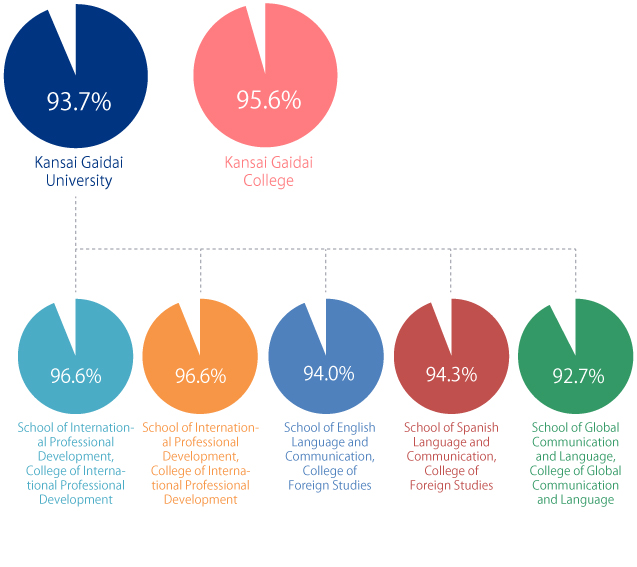 Kansai Gaidai University/College provides career guidance as an integral part of our educational and research activities, in keeping with our founding principles. Through detailed instruction in small classes, students are encouraged to develop high levels of language and practical skills, cultivate a global mindset through our international exchange programs, and accumulate many rewarding experiences during their school years. These assets will make students' post-graduation life more fruitful.
Recognizing this, we provide guidance with primary focus on motivating students to devote themselves to pursuing daily studies and extracurricular activities, having a clear sense of purpose regarding their future careers. On that premise, we are committed to bringing out individual student character, thereby fostering human resources who can respond to the needs of contemporary society and its enterprises.
-
Employment Status by Industry in which Language Skills can be Utilized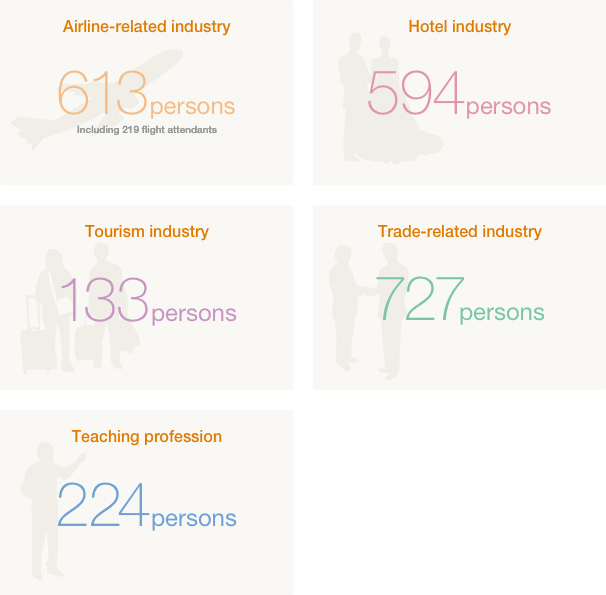 *Above data show total numbers of new graduates hired by each industry during period AY2014 ~ AY2016
Producing numerous graduates entering airline, first-class hotel and other business fields, where they can make use of their international mindset and language skills
Graduates of Kansai Gaidai University and College are highly valued by companies that employ them, for their outstanding international mindset and high language skills. Notably, we have produced a remarkable number of graduates working at airline-related businesses, hotels, tourism companies and trading companies. During just the three years of AY2014 ~ AY2016, 533 new graduates (including 228 hired as flight attendants) found employment with the airline-related industry, 469 graduates with the hotel industry, 227 with the tourism industry, and 915 with trade-related industry. In addition, many graduates have been hired as English teachers at junior high schools and high schools.