Program Overview and Curriculum (For AY2021 Matriculation on)
School of Global Communication and Language, College of Global Communication and Language
Educational Goals
Nurturing Pioneering Global Professionals Armed with "English + Chinese" and the Skills to Lead a New Era
Introduced in April 2021, the newly enhanced curriculum aims to nurture professionals with the capacity to discover new challenges and pave the way to a new era in an increasingly unpredictable and complex world. In addition to "English + Chinese" language proficiency and study-abroad programs focusing on language studies, we nurture pioneering global professionals through learning designed to foster the creativity needed to develop new values and the capacity to thrive in an era of artificial intelligence (AI).
Cultivating the Four Universal Skills
Today, "21st century skills" are required for success in a changing society worldwide. The School of Global Communication and Language, College of Global Communication and Language, cultivates these universal skills to enable students to play a pioneering role in the modern world.
-
Curriculum Features
The curriculum of the School of Global Communication and Language has the following features.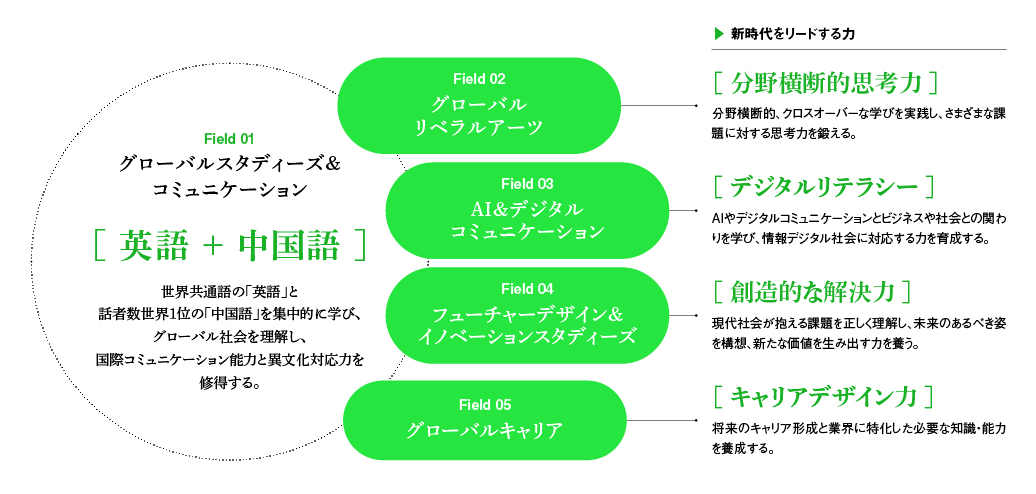 Through the five fields of study and the KANSAI GAIDAI RYU - Program for Global Perspectives, students engage in sequential, systematic learning as they move from the basics to a more advanced study, bringing their knowledge to completion at the time of graduation.
Curriculum Content
The School of Global Communication and Language provides the following categories of subjects to realize its educational goals.
Field 1: Global Studies and Communication
Students engage in an intensive study of English, the world's global language, and Chinese, the language with the most native speakers, to develop an understanding of the global society, and acquire global communication skills and cross-cultural competence.
<Intensive Program in "English + Chinese" Language Studies>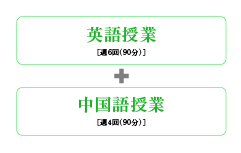 Students develop a basis for their study at the college through intensive honing of their English and Chinese language skills. In the first year, students study the languages thoroughly in small, level-specific classes (English six times per week and Chinese four times per week) to prepare for studying abroad from the second year onwards.
<Diverse Study-Abroad Programs in Both English and Chinese>
We offer a diverse range of study-abroad programs, including one-semester programs that students can opt for during their second or third year. Students who pass the selection criteria can enroll in the study-abroad programs of their choice, in compliance with their goals and language proficiency.
・ Intensive language study
Students who wish to enroll can participate in study-abroad in both English (one semester) and Chinese (one semester).* Building on the language skills developed in the first year, students develop practical communication skills and enhanced cross-cultural understanding.
* From AY2022 onwards, scholarships will be made available only for one study-abroad program experience.

• Study of specialized fields via language skills
• Study Abroad in China Double Degree (two years)
This study-abroad program for students with outstanding academic and personal qualities is intended to enable them to work on enhancing their Chinese language skills while acquiring specialized knowledge, after completing the first and second years of study. Students study at Beijing Language and Culture University for two years, earn the designated credits, and fulfill the graduation requirements for one degree, each from the Chinese university and Kansai Gaidai University.
A wide range of programs available includes Double Degree Study Abroad (two years), Two-country Study Abroad (two years), Liberal Arts Study Abroad (one year), and English and Liberal Arts Study Abroad (one year).
Field 2: Global Liberal Arts [Interdisciplinary Thinking Skills]
Students deepen their understanding of the challenges faced by the global society, including environmental issues and poverty, and work on problem solving in these areas. They develop interdisciplinary thinking skills through wide-range learning from humanities to social sciences.
Field 3: Artificial Intelligence (AI) and Digital Communication [Digital Literacy]
Students acquire basic literacy in information and digital tools, which form the foundation of the modern society. This includes learning about the roles that artificial intelligence (AI) and digital communication play in business and the society. Through this introductory learning, students develop a foundation in digital literacy that will enable them to thrive in an information-rich digital society.
Field 4: Future Design and Innovation Studies [Creative Problem-solving Skills]
Students gain knowledge of new trends in numerous domains of global society, industrial and company changes, and various facets of innovation, as well as the capacity to discover creative solutions to social and global concerns. Students develop the skills needed to respond flexibly to the rapidly changing times, envision the future, and create new value. Moreover, students develop skills required to function in a global society through project-based learning classes conducted through collaboration between academicians and the industry.
Field 5: Global Careers [Career Design Skills]
Students acquire the knowledge needed to build a future career and work in the aviation, hotel, and travel industries, while cultivating a hospitality mindset. The program cultivates basic abilities needed to play an active role in the global society.
KANSAI GAIDAI RYU - Program for Global Perspectives
The KANSAI GAIDAI RYU - Program for Global Perspectives provides a learning environment on par with study abroad here at Kansai Gaidai University, where almost all classes are undertaken together with international exchange students and conducted in English.
Professionals with advanced language skills; tolerance for diverse countries, cultures, ethnicities, histories, and religions; objective and logical thinking; communication skills; negotiation skills needed to find solutions; and facilitation skills that enable progress and success The KANSAI GAIDAI RYU - Program for Global Perspectives is here to cultivate people of this kind.