Gotenyama Campus Global Town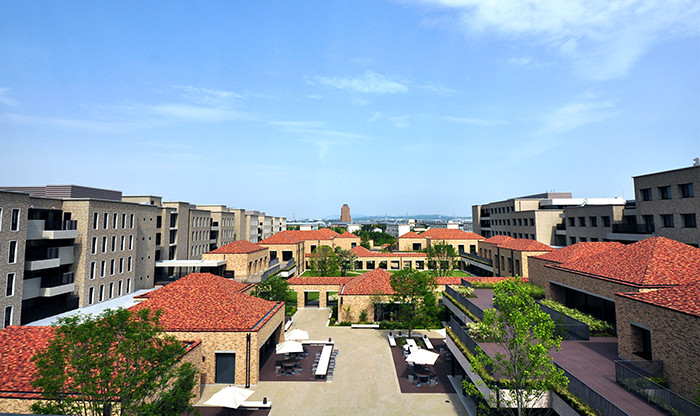 The Gotenyama Campus Global Town opened in April 2018. This new campus project was initially launched in 2015 as one of our university's 70th anniversary projects. It is only 400 meters west of the Nakamiya campus, which makes it possible to effectively merge the operations of the two campuses. Together, we now have a much enhanced hub for international education at Kansai Gaidai.
Five Distinct Features
This town-like campus has five distinct areas; each representing special features.
Area 1- Entrance Area

The first area is the Entrance Area. The entrance area represents new encounters. The entrance gate and a fountain with an artistic slate welcome students as they enter.
On the left side is the Tanimoto Hall with a capacity of 900 persons. The drop curtain is designed to represent the concept of our Global Commons YUI, using our university name initials "K" and "G". On the right side of the entrance is the student services area with a CAFÉ COMMONS, including CAFETERIA 1 and Starbucks.
Area 2- Arena for Cultural Exchanges

The focal point of the next area is a group of low-rise buildings called VILLA. This Italian name suggests a southern European residence with an open space in the center. The open space is surrounded by brick corridors and uniquely designed classrooms. Active interactions between local and international students take place in this area.

Located on the north side of the campus, the GLOBAL COMMONS -YUI- is the residence and space for cross-cultural learning for 650 students almost equally divided between international and local students. The name YUI means "to tie together" countries, people, and their hearts. Students are able to improve their communication skills and global perspectives through their experience in this new facility.
Area 3- Arena for Learning and Living

Behind the VILLA are ACADEMIC COMMONS, containing large - and middle-sized classrooms, faculty offices and administration offices. On the opposite side, CAFETERIA 2 is located to conveniently serve students with various options of meals. The cafeteria has three distinct sections with special characteristics.
Area 4- Arena for Academic Enhancement

Further to the west side of the campus is the LEARNING COMMONS, offering library services and several unique LEARNING COMMONS facilities including the CREATIVE AREA -HANA-, DISCUSSION AREA, DISCUSSION WORK AREA, ATELIE, and PRESENTATION ROOM. On the top floor, there is a cafe named CAFÈ INCONTRO, meaning in Italian, "new encounters". Students can enjoy a panoramic view from there.
Area 5- Square for Student Activities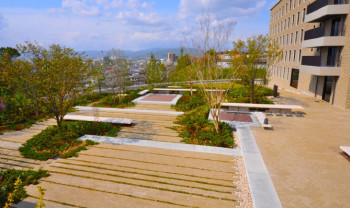 The ground-level open space is a gathering place for students surround by beautiful nature. Various events can be conducted in this open space.