Online cross-cultural opportunities in Spring 2022!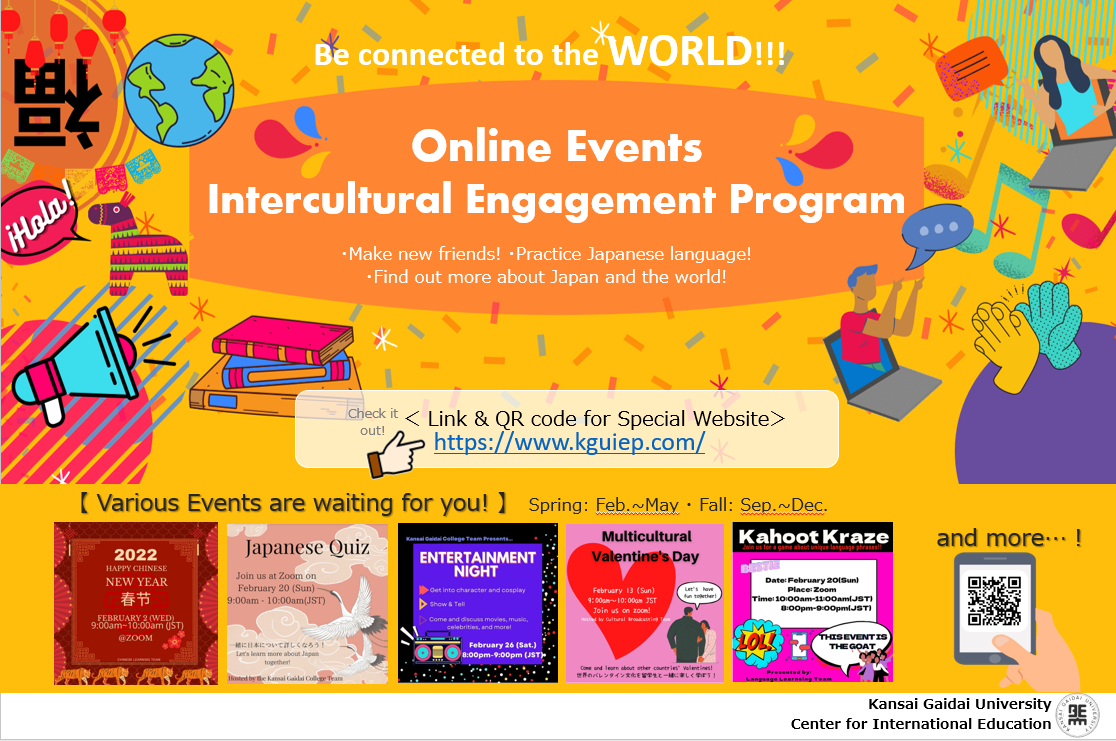 The Intercultural Engagement Program (IEP), a student-driven program started in September 2020 due to the current coronavirus pandemic (https://www.kguiep.com/), is now in its fourth semester. Within the IEP there are many cross-cultural engagement experiences that international students can both learn from and enjoy.

IEP for Spring 2022 consists of eight teams, a total of 72 students from 10 different countries from Australia, Canada, Germany, Mexico, Malaysia, Portugal, Sweden, U.K, the U.S, and Japan.

Nearly 300 events were held from the Fall semester 2020 to the Fall semester 2021 and almost 4,000 people have participated. Team leaders plan everything from scratch and each team creates many unique events such as business workshops collaborated with a Japanese company, online study abroad experience in China, digital art classes, career workshops, and much more.

This semester's first IEP events such as "Happy Chinese," "Valentine Talk," "Entertainment Night" started in February. Students always grow and learn from each other through this program, which has become even more engaging and popular every new semester it is run. It is always great to see motivated students being engaged and working together in an international setting. The IEP makes it possible to build a sense of community around unique cultural events despite students being separated currently by distance and time.

All students from our partner institutions are more than welcome to participate. Scanning the QR code on the posters is the easiest way to sign up for the various IEP events from March to May. You will surely enjoy interacting with Kansai Gaidai students and international students from all over the world. Sign up today!