Culture
Want to make an authentic Middle Eastern dish?

Cultural Broadcasting Team
Here you have my Israeli friend's, Noa, recipe for Shakshuka!
This dish usually shared with friends and family, and I am lucky to have a friend who's sharing this amazing food with me, time after time :)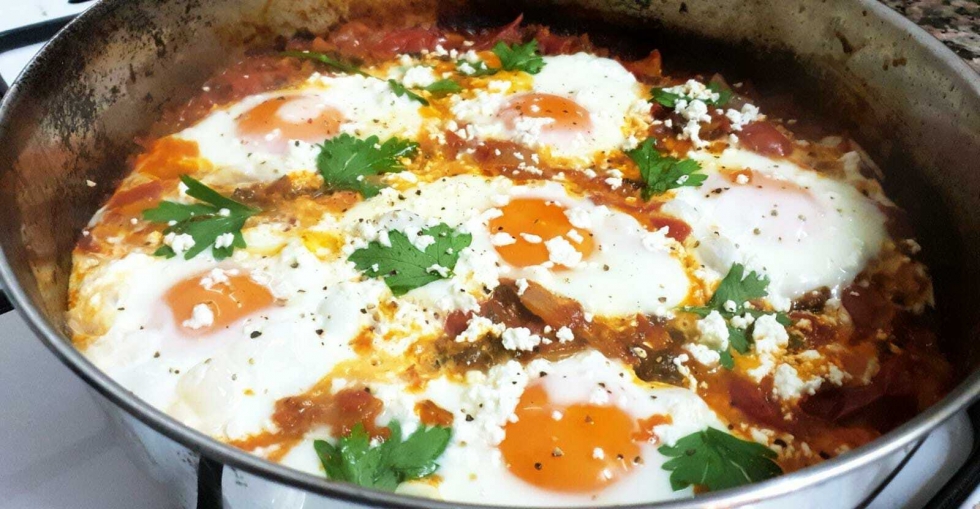 Ingredients for 3 servings (on a frying pan):
1 big white onion
3 Tomatoes
1 Tablespoon of tomato paste
Vegetable/Olive oil
6 Eggs
Parsley
Salt & Black pepper
Chili Pepper, spinach, sirene cheese/other cheese – optional
How to make:
First, you chop the onion and fry it in the oil until it gets translucent. If you want to add chili pepper and spinach – you add them at this stage as well. You fry the spinach until it shrinks. After that, you chop the tomatoes as small as you can, and add it as well. When you add the tomatoes, you also add a small amount of water, so it won't get dry and stick to the frying pan. Then you close the lid and wait for the tomatoes to dissolve, adding water when needed (if it looks like it's getting dry). When the tomatoes start to dissolve, you can add the tomato paste, a little black pepper and salt and mix it all together. After you finish all that, you add the eggs. Every time I put an egg inside, I try to make a little hole in the sauce so it will get to the bottom of the frying pan (as much as it can). After you finish adding the eggs, you add the Parsley and the Sirene cheese on top. Then you wait for the eggs to be ready to your liking.
I recommend eating it with some bread and a salad on the side, I also like to eat eggplants next to it. Hopes you guys like it!
If you make it, please send me us a picture, so we will let Noa know how it turned out!!

Cultural Broadcasting Team