FD program 2010 - University of Wisconsin - Eau Claire
2010/10/19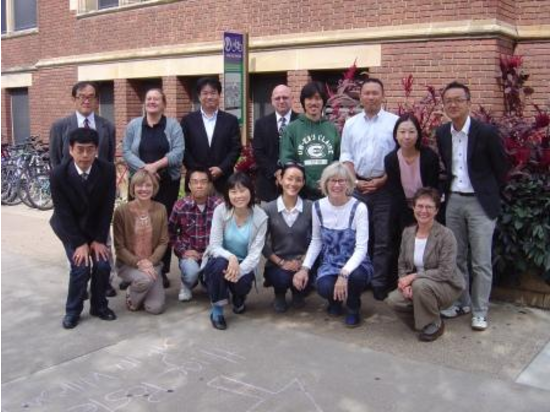 This year again, we organized the faculty development training program (the FD training), in conjunction with the "The ASEAN: Plus Three University Consortium." The purpose of the FD program is for Japanese native faculty members to prepare in the U.S. to offer classes in the English language in the College of Foreign Languages and the College of International Communication. From September 7th to 14th, ten Japanese professors participated in the carefully tailored series of workshops at the University of Wisconsin - Eau Claire (UWEC). UWEC is one of the long standing affiliated universities of Kansai Gaidai. We studied, exchanged opinions and ideas about educational philosophy, classroom management, teaching pedagogy, and instructional methods within the multicultural pluralistic educational environments.
The series of workshops started with the introduction of a brief history and the current state of the Hmong, an ethnic group from South East Asia, which started to migrate from Laos to the U.S. about 30 years ago. A significant numbers of Hmong settled in Wisconsin. The diverse condition of the Hmong community and the current status of their American migration was introduced. Other fascinating topics included dealing with diverse students who come from various ethnic, racial, cultural and social backgrounds. We learned also how international student exchanges contributed to the American academia.
We visited many classes and observed how professors can adjust and adapt to the needs of class contexts as well as class management styles in students population of less than 30 students. In these class observations, we recognized how instructors try to utilize each student's individual, social and cultural backgrounds in the subjects that they teach, and how an instructor conducts class instruction. In addition, we observed relatively large size of classes with more than 200 students. In one class, a device called a "clicker" (a small radio device the size of cellar phone) was used. Students can answer questions from the instructor by pushing a key on the device and the result can be reported and shown on the screen in class instantly. With this device, students' reactions and understanding of the content can be monitored.
We also visited a local public high school. It was quite impressive to observe instructors' struggles to teach students who have lower motivation compared to university students. For some of us, this high school visit was the first experience to encounter the American secondary educational system.
This year, based on recommendations by last year's participants, there were more opportunities to exchange opinions and ideas with professors at UWEC who have similar research and teaching areas. The objective of this arrangement was to learn from each other how we teach in our classes and do research. In addition, some had opportunities to speak in classes. Even though, the program was short (only 7 days), we were very much stimulated. It gave us a profound opportunity to consider our daily teaching at Kansai Gaidai. The actual application of what we learned through this program to our daily teaching might present some challenges; however, overall, spending ten days in the totally English environment helped significantly to motivate us.
(Associate Professor of Sociology, Dr. Hiroyuki Toyota)