My Summer Internship at the Osaka Foundation of International Exchange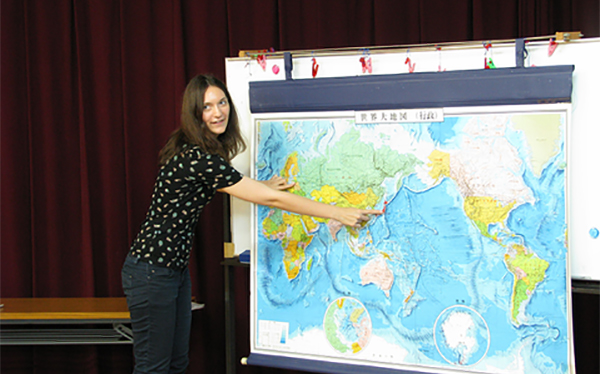 During this summer, I had the opportunity to experience first-hand what it means to work at a Japanese style office while doing an internship at the Osaka Foundation of International Exchange - an umbrella organization of the Osaka Prefectural Government dedicated to promoting international cooperation and cultural exchange. Like many Japanese office workers, I would spend one and a half hours every day travelling to and from my work place during the commuter rush. Of course, the trains, as a rule, were always crowded or as we Latvians would say the people were packed together like "herrings in a barrel" and I would find myself wondering how everyone was able to keep so calm, despite being fully dressed in the traditional Japanese black business suits and the thermometer hitting the + 35 °C mark, and thanking my lucky stars that the office where I was to work did not have a strict dress code. After alighting from the train and walking for another 15 min. to MyDome Osaka where OFIX is located and conquering five flights of stairs - they do have elevators, but all of the omiyage okashi that my colleagues brought from their business trips were starting to take their toll on me - I would finally arrive at the office.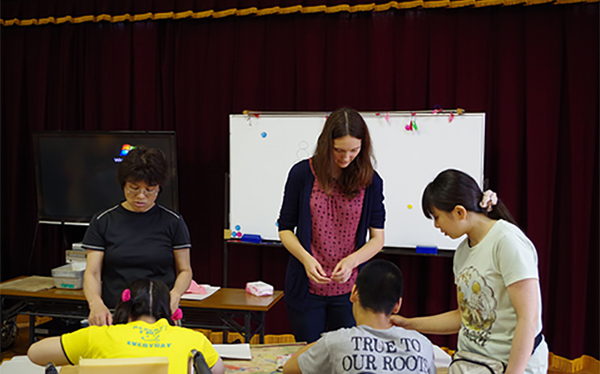 I still remember how anxious I was on my first day on the job, having only studied Japanese for three years at university, but because of everyone being more than welcoming and taking the time to explain to me anything I had trouble understanding, while teaching me some phrases in Kansaiben like "Nanishitemannen?" along the way, I soon felt like I had been working there forever. Though I did struggle at first, with the help and support of everyone at OFIX, whom during the three months of my internship I had grown to think of as my second family, I was able to overcome every challenge I had to face. The very first task I was given was to create a new access map to the Osaka Information Service for Foreign Residents located within OFIX. As I was completely new to the neighborhood and it was my first time using a computer that had only Japanese software, it took a while to complete the project. Still, it proved to be a great excuse to go exploring after work and I got to learn a lot about the specifics of the decision making process like nemawashi within a Japanese organization. Besides renewing the information on the organization's home page, some of my other tasks included translating leaflets later to be distributed at the Orion dormitory for international students, which is also under the supervision of OFIX, and contributing articles to the organization's monthly newsletter. Although desk work did take up a large part of my time, while being an intern at OFIX, I also had the chance to learn about the Japanese way of doing business by participating in the organization of many different events hosted by OFIX, such as the annual conference held to encourage foreign investment and entrepreneurship in Osaka in cooperation with the recently opened Grand Front Osaka and ESSEC Business School. After having expressed my interest in international relations and diplomacy, my sempai would always make sure to bring me along on their visits to one of the 90 consulates situated in Osaka or the Ministry of Foreign Affairs to discuss the preparations necessary for the Disaster Prevention Conference that OFIX had been put in charge of. Another part of my job that I enjoyed immensely was participating in educational activities aimed at furthering the understanding of different cultures by taking part in English language classes as a volunteer at several schools throughout the prefecture or giving presentations on my home country.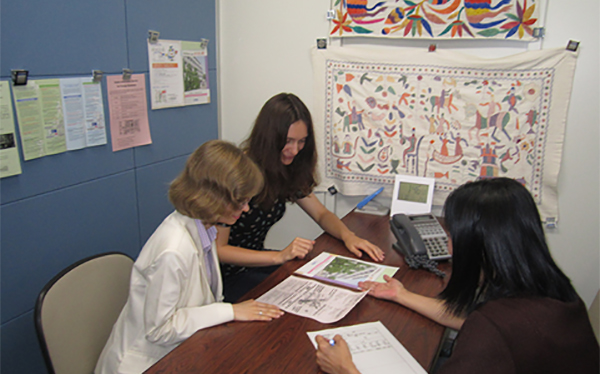 I could go on and on with the list, as there was not a single dull moment during my time at OFIX, and I can truly say that I am glad that I took the plunge and decided to take on the internship - it might have just been the best decision I have made up until now - , but I will spare you the details. During this summer I was able to immerse myself completely in Japanese culture and to rub shoulders with some of the most interesting and hardworking people I have ever met who reminded me how important it is to enjoy what you do. It truly was a once in a lifetime experience. If there is one thing that I regret about my time at OFIX, besides it being so short, it would be my failure to master the art of sleeping on the train while standing up, but hey, there is still time for that, right?

Signe Zaharka
Asian Studies Major
Home Institution: University of Latvia