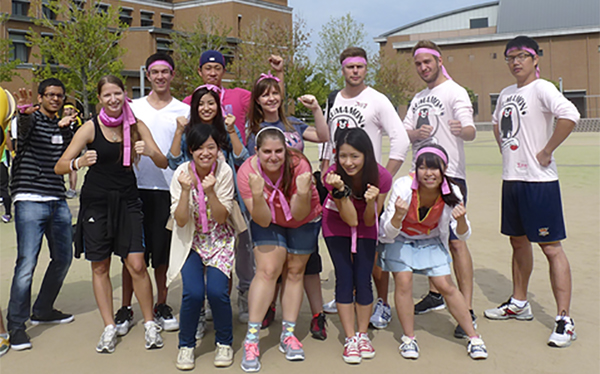 Despite the worst weather predictions that promised a 70% chance of rain, more than 120 Exchange and Local students gathered in the student athletic fields, be ready for an exciting day.

After a pledge for fair play, all the participants exercised, probably their first Japanese Rajio Taisou, typical morning aerobics.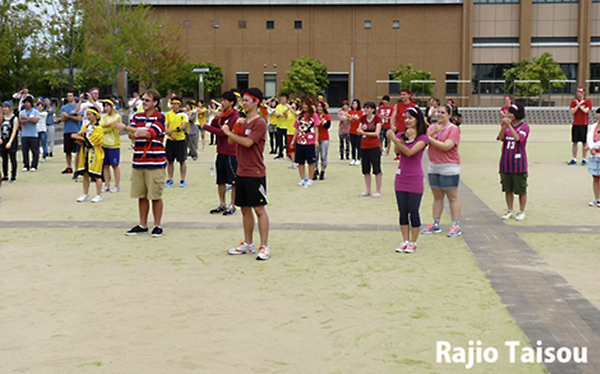 Then, the first game, Shippo tori (taking tails) began. This game was to steal other contestants' 'tails' in order to get points within 3 minutes.

The second sport event was the traditional Daruma san ga koronda, a game difficult at first, but once understood amusing and funny. After hearing the words "Daruma san ga koronda!" the students had to pose according to a theme, varying from a seductive model pose to a funny Macho style pose. The game unleashes the creative side of all the players, a moment in which the cameras of the audience had a really busy time.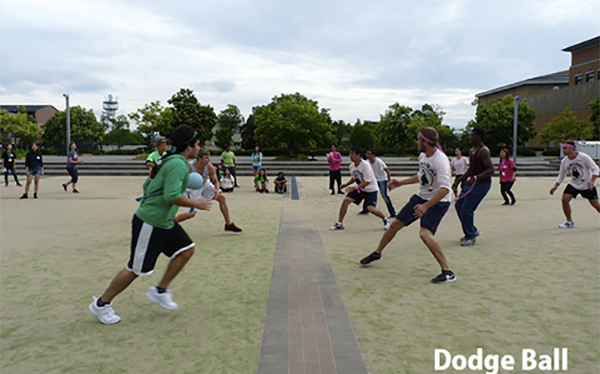 The clouds kept going back and forth and not letting the Sun shine as some participants would have preferred, but after lunch, the clouds moved away a little bit and let the Sports Festival keep going until the end.
The scores were pretty tight at that moment and no one knew yet what the results would be.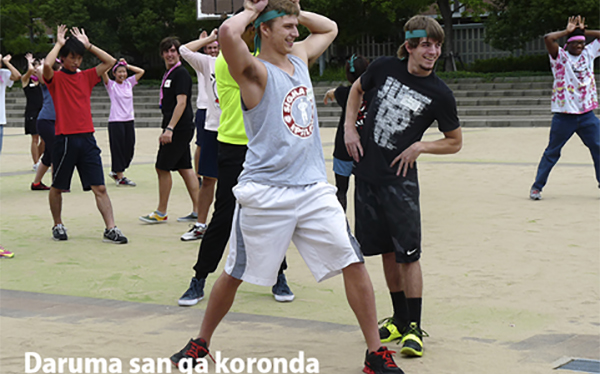 The second half started with the obstacle dash, which proved to be a challenge in more than one way; a typical Japanese game, Kendama , in which the students had to get a ball standing still on wooden instrument for 5 seconds. What actually looks pretty easy became one of the obstacles that changed the leadership of the relay race more than once.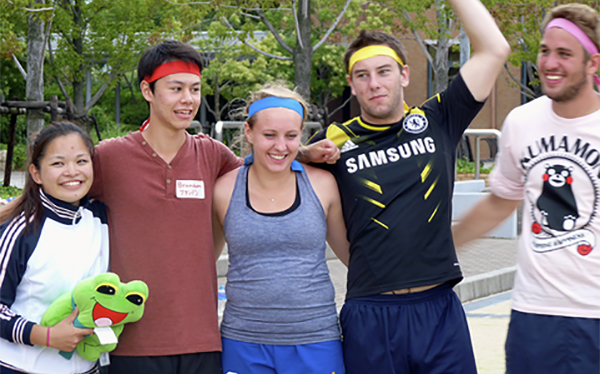 The dodge ball tournament became the most competitive game of the Sports Festival. Strong rivalries arose and the students showed a strong will to win.
The last game was the surprisingly difficult long-rope jumping.
Despite all the efforts of other teams, the soft looking "pink" team won the game after all.

Once again, thanks to the efforts and the enthusiasm of all the participants and the Center for International Education Assistants, and the benevolence of a cloudy sky, the event was a great success!