291 international students completed the Asian Studies Program
On Saturday, May 25, 2019, the completion ceremony of the Asian Studies Program was held at Tanimoto Hall on the Gotenyama Campus Global Town.

A total of 291 international students from 38 countries and regions completed the Asian Studies Program. President Yoshitaka Tanimoto awarded a Certificate of Registration to each international student.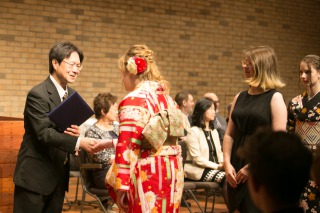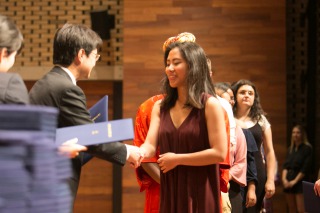 President Tanimoto delivered a commencement address stating "I would like to urge you to play a leadership role in creating new paths towards the greater good of global society." Ms. Karen Kelley, Consul General, U.S. Consulate General Osaka-Kobe and Mr. Laurence Williams Bates, General Counsel, Managing Executive Officer, and Member of the Board Panasonic Corporation delivered their congratulatory messages and complimented the students for their successful completion of their study abroad. Following their remarks were speeches from two students; Ms. Kai Iwasaki a local student of Kansai Gaidai spoke in English, and Mr. Randall James Willnauer from Kansas State University, United States talked about his experiences in Japanese.
Kansai Gaidai university has established a new award, "President's Global Education Award". The first recipients were Dr. Linda Bohaker, Professor, Dr. Hideki Saigo, Associate Professor, and Mr. Yuki Matsuba, Assistant Professor, and they were commended for their excellence in teaching.
After the ceremony, a luncheon party was held at the cafeteria. Students, host families, faculty members, and Resident Assistants joined the celebration.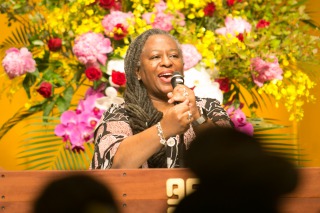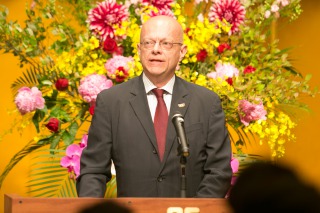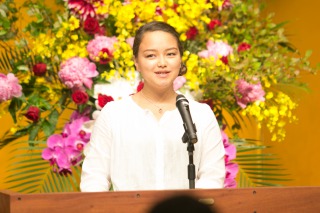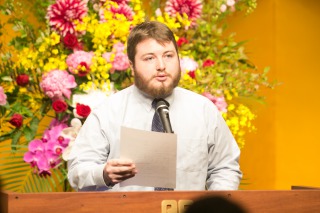 An evening farewell party was held at the Tanimoto Hall and Garden Square on the Gotenyama Campus Global Town. Resident Assistants organized this "end of the semester" party hoping that it will be another long-lasting memory for the 300 international and local YUI residents who joined the party sharing and reflecting on their experiences at Kansai Gaidai University!