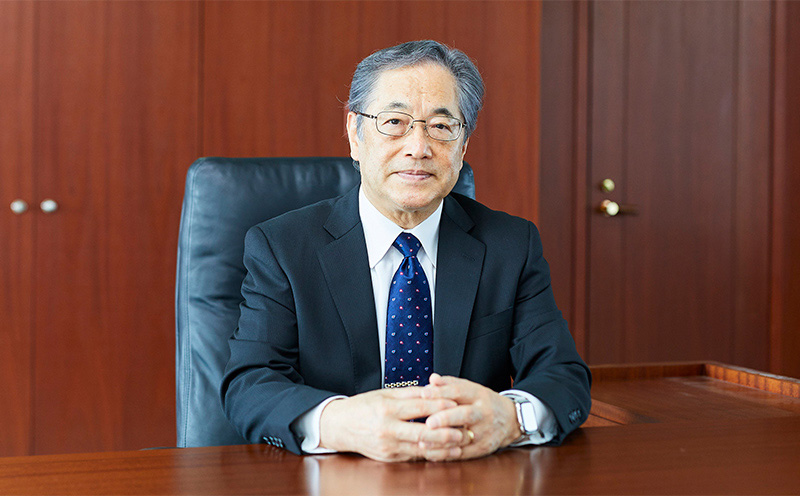 Yukio Oba, Ph.D.
President
Member of Board of Trustees
Kansai Gaidai University
Message from the President
Kansai Gaidai University celebrates the 75th anniversary of its founding in 2020. Since its inception in 1945, international education has been the core of the University's development, as set forth in our founding principles. We aim to 1) nurture individuals with a well-rounded education who can contribute to the international community; and 2) focus on practical learning in order to meet changing social needs and cultivate fair-minded perspectives on the world.
Our international network has now expanded to include 393 institutions in 55 countries and regions, which brings us a gift of diversity in many respects. Utilizing our inbound and outbound study abroad programs and the opportunities for active interactions with other students and faculty members from around the world, our students experience a wealth of intercultural encounters and the benefits they offer. With the value we place on experiential learning, students develop deeper understandings of different cultures and diverse values through effective engagement with others both inside and out of the classroom. Such engagements are often milestones in students' paths to cultivating a global perspective. It is our belief in these processes of growth that has led us to develop our extensive international programs.
The world today presents many challenges that can only be resolved by putting our wisdom together beyond boundaries. As a front-runner in international education, Kansai Gaidai is firmly committed to continue our efforts in fostering individuals willing and able to help make the world a better place for all.
Kansai Gaidai University looks forward to welcoming those who would like to explore the world and discover their pathways to becoming global citizens.
Profile
| | |
| --- | --- |
| 1976 | Master of Arts, Kyushu University |
| 1985-1986 | Visiting Scholar, Massachusetts Institute of Technology |
| 1997 | Doctor of Philosophy, Osaka University |
| 1999-2013 | Professor, Graduate School of Letters, Osaka University Graduate School |
| 2008-2009 | Director, English Literary Society of Japan |
| 2010-2012 | Vice Dean, Graduate School of Letters, Osaka University Graduate School |
| 2012-2016 | Director, English Linguistic Society of Japan |
| 2013 | Professor Emeritus, Osaka University |
| 2013-2017 | President, English Linguistic Society of Japan |
| 2013- | Professor, Kansai Gaidai University |
| 2013- | Member of the Board of Trustees, Kansai Gaidai University |
| 2014- | Dean, Foreign Studies Research Division, Kansai Gaidai University Graduate School |
| 2018- | Adviser, English Linguistic Society of Japan |
| 2020- | President, Kansai Gaidai University |
Award
| | |
| --- | --- |
| 1998 | Ichikawa's Prize (The Institute for Research in Language Teaching) |