STUDENT TESTIMONIALS
Testimonial 1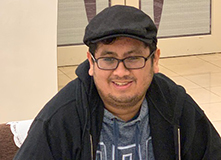 Jesse Jovyn Abulencia
Home Institution: Old Dominion University
Internship Site: Fusion Systems Japan Co., Ltd.
Period: June 15 to August 15, 2017
For my internship arranged by Kansai Gaidai University, I worked with an IT company in Tokyo named Fusion Systems. I had a terrific experience (other than experiencing my first Japanese Summer!) and learned a great deal about the state of technology in Japan as opposed to my home country, the United States.
Before I started my internship, I had already initiated my career as a network engineer in the U.S. working for 3 years and gained certifications alongside studying at university, all of which helped me acquire this internship. While I already began and worked on my career in the U.S., this internship allowed me to easily return to Japan again and work here.
If you would like to work in Japan in the future after finishing school, I highly recommend the Kansai Gaidai Internship Program (KGIP), as it will allow you to place an international work experience on your resume as well as allow you to build connections that may one day bring you back here, as it did for me.
Testimonial 2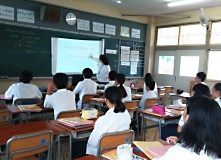 Rotem Oppenheim
Home Institution: Hebrew University, Israel
Internship Site: Kuzuha Middle School
Period: May 30 to June 17, 2016
When I first learned about the internship program I immediately know that this is the kind of program that I would like to take part in. Personally for me since I am a student of Japanese studies any type of engagement with different aspects of Japanese society is important for me.

The first week was mainly spent introducing myself to the English teachers and pupils and also trying to understand the school's schedule and getting to know the school itself. Sometimes the teachers would ask me to read out loud different reading materials, or help them go around the class and check the pupils' answers, sometimes I would be paired with one of the pupils who didn't have a partner and help them practice.

From this experience, I learned the importance of taking a proactive approach. Instead of asking if there is something to do, I asked one of the teachers if there is something that she would like me prepare.. That resulted with the teacher asking me to make a presentation for the next grammar point and present it during her classes.

During the time of my internship the school had a sport's day event. All the students were divided to five big groups, the group that was able to collect the most points – won. The games emphasized team and everyone had a chance to participate. The students have been preparing and practicing for this day for a long time and during the actual day they were very excited. What surprised me the most was that it wasn't only a school event but a neighborhood event as well and many people came to watch and cheer the students. As for myself I tried to communicate with the students during the day, talk to them, ask questions about their experience and cheer them.

Aa graduate student I tend to view everything as a kind of field work. I strongly believe that you can learn new thing even from only observing. During the time of my internship I learned how a school's faculty in Japan operates. I learned how teachers treat their pupils and how pupils treat their teachers. I learned that Japanese pupils are extremely genki, lively.

Moreover, this experience gave me practical experience of standing in front of a class and teach new material. This kind of experience, I strongly believe that this will be useful for me in the future. As someone who is pursuing a career in academics – teaching is a major part of that path. I hope to use this experience as a stepping stone and continue in improving my teaching skills.
Testimonial 3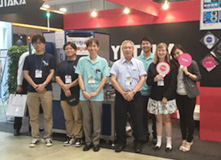 Georgia Ainslie-Hamblin
Home Institution: University at Albany State University of New York
Internship Site: Yutaka Co., LTD
Period: June 1st to June 30th, 2016
I feel very fortunate that I was able to participate in the Kansai Gaidai Internship Program during my time in Japan. I really think that participating in the this program was one of the things that made my already-amazing study abroad experience at Kansai Gaidai even more incredible and worthwhile.

Through this program, I was able to intern for a month at Yutaka Co., LTD, a company in Osaka that manufactures inspection machines for screws, nuts, bolts and other machine components. During my internship at Yutaka I worked in the sales department where I gained first-hand experience in Japanese customer service and learned many things that I will be able to apply towards my future career. Additionally, because I was able to use Japanese every day at the company, my Japanese language skills grew exponentially during my internship.

During my time at Yutaka, my primary tasks included interacting with and assisting customers and translating company correspondence and documents. I worked on many Japanese-to-English translations for things such as machine user manuals and catalogs, and did a few English-to-Japanese translations of documents as well. Additionally, I helped write correspondence between Yutaka and their English-speaking customers. Through all of these tasks I was able to learn many specialized vocabulary and learn a lot about Japanese business-correspondence etiquette.

I was also very fortunate to have the chance to accompany Yutaka to The Mechanical Components & Materials Technology Expo at Tokyo Big Sight. During this event I worked at the information desk of the company's booth, greeting customers and writing their names on the list of guests, a task that allowed me to learn many new kanji. I also assisted with explaining how the inspection machines work when English-speaking customers visited the booth. Sometimes this involved acting as an interpreter between the customer and Yutaka staff members.

Through this internship I have been able to strengthen and further develop my existing skills, as well as gain many new skills in my areas of interest. The many experiences I gained were all amazing and beneficial learning experiences, which I know will continue to help me reach my goals in my future. I am so grateful that I had the opportunity to take part in such a wonderful program.
Testimonial 4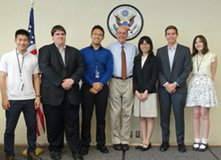 Sean Matthew Daconceicao
Home Institution: University of South Florida
Internship Site: U.S. Consulate General, Osaka-Kobe
Period: May 31 to August 5, 2016
My internship at the U.S. Consulate General Osaka-Kobe was a great learning experience. As a member of the Commercial Service Western Japan team, I was able to help American companies expand their business and sell their products and services in Japan. I was also able to socialize with other interns and make new friends throughout the duration of my internship.

The U.S. Consulate, located in downtown Osaka between Yodoyabashi Station and Umeda, is in a thriving business district. My internship, which was full time, gave me the feeling that I had already graduated and was working in my career. I believe that this was a very important part of the experience because it has prepared me for the stress of commuting and working 40 hours per week.

In the office, I conducted research on markets in Japan and located opportunity areas for U.S. companies to pursue. I was also able to help at events held for business relations between Japanese businessmen and their American colleagues. As a result of this, I have made many contacts in Japan and may one day pursue a job opportunity at a Japanese company.

I owe this opportunity to both the U.S. Consulate and the Kansai Gaidai Internship Program. Without the help of both, I would not have been able to have such a unique and impactful experience. The hands-on nature of this internship has been extremely relevant to my major, International Studies, and has made me even more eager to begin my international career after graduating. I would highly recommend the Kansai Gaidai Internship Program to any student looking for real work experience which is invaluable to both oneself and prospective employers.
Testimonial 4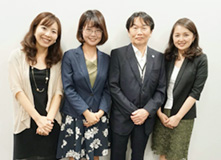 Fenghua Li
Home Institution: Colgate University
Internship Site: The American Chamber of Commerce in Japan, Osaka Chapter
Period: June 1 to July 29, 2016
I really appreciate that Kansai Gaidai has provided me the opportunity to start my first internship at ACCJ - Kansai. The past two months have been amazing. I have been learning new things every single day, and I feel that the period of two months is just not enough for me to discover the business culture in Japan.

ACCJ, or The American Chamber of Commerce in Japan, serves as a bridge between US companies in Japan and Japanese society. ACCJ has a total of three chapters in Japan, including Kansai where I was an intern. It regularly organizes events to link US businesses in Japan together and to help further promote their business interest in the Japanese market. ACCJ also has a close affinity to the US consulate in Osaka, and they often hold collaborative events assisting the US businesses with immigration and law issues.

My main project at ACCJ-Kansai was to track the history of the Kansai chapter. It was very interesting to go through many old documents, some of which even dated back to the late 1950s. Throughout the project, I got a better understanding of the Japanese economy from the post-war period to the present day. In addition to this, I was able to deeply explore the Kansai business culture and to appreciate both the industry structure and business potential that this area has.

While interning at ACCJ-Kansai, I was given the chance to help out at the Kansai Women in Business Summit 2016 held in the Ritz-Carlton Osaka, where I got to listen to speeches given by business leaders working in Japan. Their opinions offered me a lot of information about business culture in Japan, which includes both the good and bad sides, and I was taught how the leaders are trying to promote greater diversity within their work environments by driving organizational culture changes. I also got the opportunity to participate in an event where young Japanese employees shared their thoughts based on their working experience. I feel very grateful that ACCJ provided me with such opportunities to take part in events where I always learned something new.