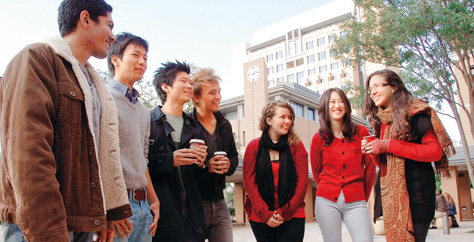 Established in 1972, the Asian Studies Program today annually welcomes over 600 competitively selected students who represent about 40 countries and regions.
The raison d'être of the program is to provide international students with a means of exploring Japan and Asian studies through classroom instruction and interaction with Japanese people.
Japanese language courses range from the introductory through the advanced levels. Previous Japanese language training is not required.
A variety of course offerings relevant to Japan and Asia, taught by experienced faculty members, will provide new perspectives for participants and inspire their intellectual and personal growth. One of the special advantages of studying in our program is the fact that all courses, except for Japanese language courses, are conducted in English.
Efficient language training with the latest innovations in linguistic instruction, fully equipped language laboratories, friendship programs with Japanese students, as well as the heart-warming home stay program, will all contribute to the rapid development of participants' language proficiency and pragmatic understanding of the Japanese culture.
Typically, our student body is equally balanced between males and females. About 90% of the total exchange program participants are from our affiliated institutions worldwide, and the remaining 10% enroll independently.
Firmly believing that Japan and Asia will continue to be key players throughout the 21 century, the program encourages students to tackle new challenges and take advantage of various opportunities available in Japan.