(3 semester credits each)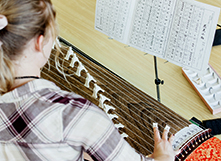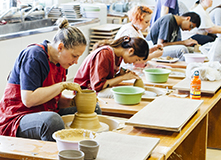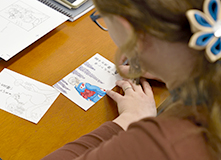 Basic Ceramic Techniques
A course in basic techniques, with an emphasis on the distinctive methods of Japanese tradition, including both throwing and building. On-campus studio facilities will be used for instruction and practice.
Intermediate Ceramic Techniques
On the basis of skills learned in Basic Ceramic Techniques, students will strive to master sets of ceramic works (i.e. multiples of same-sized items), large works, and more advanced decorative techniques.
Prerequisite: Basic Ceramic Techniq¬ues or at least a year of experience with ceramics.
Advanced Ceramic Techniques
This course is designed for students who are prepared to incorporate some of their own creativity into their work. An in-depth study of glaze compositions will be covered.
Prerequisite: Intermediate Ceramic Techniques or at least two years of experience with ceramics.
Manga Drawing
In this studio course, students will be taught to draw and produce manga, the Japanese comics.
The typical tools for manga-pen, inks, manga-papers and screen-tones will be used to draw illustrations or whole manga stories in black and white. At the beginning, students will learn how to use the tools by drawing characters, illustrations and one-page manga. The latter half of the semester will be used to produce one or more manga-booklet(s) (J., dōjinshi) which will include the students' manga works. With this project the students not only learn how to draw a manga, but also how to edit and complete a dōjinshi production, and the students will be able to experience a very small part of being a manga-ka.
Koto (Japanese Harp) Basics
The koto is a traditional Japanese stringed musical instrument. The objective of this course is to provide students with a better understanding of Japanese culture through basic koto performance.
Students will learn to read koto tablature while practicing on the instrument. We will begin with the best-known Japanese song, Sakura, followed by other Japanese songs, mainly classics. Students will be expected to sing while playing; therefore, they will be required to learn Japanese songs and their scales. Also, students will learn how to properly set up the instrument and store it.