Internship sites include business firms, public organizations, and local schools. The sites listed here have accommodated our interns during the past year(s).
(Please carefully note that internship sites may change each year.)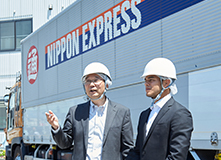 Nippon Express Co., Ltd.
Mr. Kevin Hernandez from Kansas State University, USA did his internship at Nippon Express Co., Ltd., one of the biggest logistics service companies in Japan. At their Kyoto Branch office, Kevin was engaged in actual operations of the facilities.
"Through the internship program, I learned how the Japanese work environment differs from the work environment in the USA," commented Mr. Hernandez. Making the most of internship and study abroad experiences, Kevin hopes to work in Japan in the near future.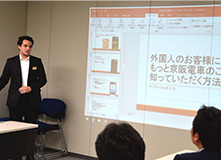 Keihan Electric Railway
Mr. Ignacio Ramirez from Florida Atlantic University did an internship with Keihan Electric Railway Co., Ltd. He was given an assignment to come up with proposals to improve information delivery and effective measures to increase visitors to Keihan's theme park, Hirakata Koen. After conducting research and actual visits to relevant locations, he made a presentation regarding specific strategies to make their services international visitor friendly. "A sight-seeing pass" is not well known among international students, though I feel it is a very convenient system." said Ignacio.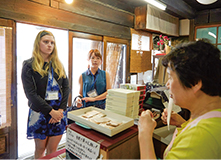 Sakai Tourism and Convention Bureau Public Interest Incorporated Association
Two international students did their internships at the Sakai Tourism and Convention Bureau Public Interest Incorporated Association. After undertaking training and learning about the historical sites and important landmarks of Sakai, they engaged in actual operations of tourism promotion of the city. Their tasks included presentation of information on attractions via SNS and emendation of the website in other languages, to name a few.
"I hope to attract many foreign tourists, not only to Tokyo, Osaka or Kyoto but to Sakai City as well." said one of the interns, Ms. Samantha Sodetz from University of Florida, USA.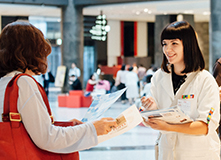 Knowledge Capital
Ms. Barbara Karwat from Jagiellonian University in Krakow, Poland, earned an internship opportunity at "Knowledge Capital" in Umeda, Osaka. "Knowledge Capital" is a communication space linking businesspeople, creators and researchers who seek new ideas, products, software development, etc. Innovations through networking is the goal. Barbara, designated as a "communicator," was responsible for introducing interpretive exhibits of products and software that are under development. She was thrilled as she was able to use and practice what she learned at Kansai Gaidai in her actual tasks. She hopes to find a job in which she can utilize her Japanese language skills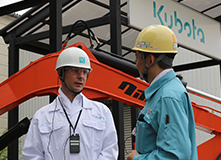 Kubota
Mr. Wojciech Kass, Jagiellonian University, Poland, chose Kubota because the company contributes to the welfare of society and aims to deal with many challenges that may cause grave problems in the future, such as clean water shortages and insufficient food supplies. During the internship, beside visiting factories and working in the office, he had his own projects that he had to carry through. "This period was rich in challenges and densely packed with new experiences, but for me, the most valuable things that I have obtained, are new friendships and re-evaluation of the previous notion that I had about a Japanese company. I am sure that knowledge and memories that I gained through this internship will stay with me for many years that are yet to come."
Other Internship Sites
Business Firms
AIG Japan Holdings Kabushiki Kaisha
Hankyu Hanshin Holdings, Inc.
Kanai Juyo Kogyo Co., Ltd.
Kawaso Texcel Co., Ltd.
KCJ GROUP INC. (KidZania)
Keihan Electric Railway Co., Ltd.
Knowledge Capital Association
Kokuyo Co.,Ltd.
Komatsu Ltd.
Kubota Corporation
KYOCERA Document Solutions Inc.
Nichiden Corporation
Nippon Express Co., Ltd.
SMBC Nikko Securities Inc.
Sumitomo Mitsui Banking Corporation
Suzuki Menthol Co., Ltd.
Tachikichi Corporation
The Royal Hotel, Ltd.
Local Schools
Hirakata Municipal Hirakata Daiichi Middle School
Hirakata Municipal Hirakata Daini Elementary School
Hirakata Municipal Hirakata Elementary School
Hirakata Municipal Hirano Elementary School
Hirakata Municipal Ikaga Elementary School
Hirakata Municipal Kuzuha Elementary School
Hirakata Municipal Kuzuha Middle School
Josho Keiko Gakuen Junior and Senior High School
Osaka International Takii High School
Osaka Prefectural Shijonawate High School
Osaka Prefectural Hirakata High School
Osaka Prefectural Kitakawachi Satsukigaoka High School
Government Office/Organizations
U.S. Consulate General, Osaka-Kobe
Sakai Tourism & Convention Bureau
Host conpanles/school may change without advance notice.
Note: There may be some fees to participate in the program.